Home Page
Yosemite! Just say the word and watch the eyes of landscape photographers glaze over. It doesn't take much time there to figure it out. Friend and colleague Paul Stachelek, who teaches at Palomar College, invited me on a field trip to Yosemite in 2004 and I was instantly hooked. I've been back four more times with my Landscape classes at City College and it never gets old.

Yosemite has everything: rocks, mountains, forests, meadows, raging water and quiet streams, expansive vistas and tasty little nature details, all in one area. And, like so many of the beautiful places, it is constantly changing with the seasons and even the light as the day progresses. I've spent more than one day simply orbiting the circuit around the valley watching the light change and pulling over to shoot when it is just right for my vision of the scene.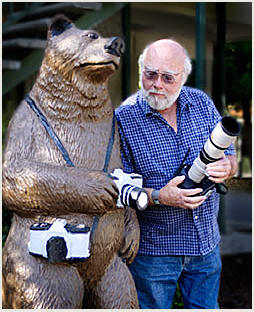 My latest field trip to Yosemite was in Spring of 2009. As always it was a great trip and the students seemed to really enjoy it. This last year, to be honest, I think several of them were so good they managed to outshoot their teacher and I think that is REALLY a cool thing.
Over the years have met some interesting people who were also photographers. Several have also been there on field trips or workshops with students and some pro shooters were there on projects of their own. As sometimes happens when photographers meet, we compared notes and equipment. Here to the right is a shot of me on the latest trip checking out the somewhat unusual equipment of an equally unusual photographer at the lodge where we stayed. I thought at first he was eye-balling my lens but it turned out he was actually interested in the candy bar in my shirt pocket. A reminder to not get cocky about what we do or how we do it.
My first visit to Yosemite was after my conversion to the dark side as some of my fim-shooting colleagues refer to digital photography. Consequently all of the shots in this collection were acquired digitally on the following cameras:
Nikon 8700 Digital
Nikon D100 Digital
Canon 20D Digital
Canon 5D Digital
Canon 1Ds Mk II
OK, NOW let's go to the photos!

[Skip the Introduction and go right to the photos ]
Please Note:
If your browser has Active X functions turned off the photo page will not work properly. You will see an info bar which you will have to click on and accept the Active X components for this page. It will only work for the specific page allowed.