So, how fast is it? Well, there's the math and then the clock. Let's do the math first.
Actually, the math is complicated and requires knowledge not only of the available horsepower at various (and higher) RPMs but also of the car's coefficient of drag, the frontal area, the tires' diameter, and the tranny and rear end gearing, etc. to determine what the gearing allows and then whether or not there is sufficient power to overcome the nearly exponentially increasing wind resistance at elevated speeds. That's what computers are for and the result is a calculated potential speed of 197 mph at 5300 RPM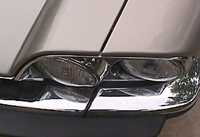 though there is nearly another 1000 RPM before my arbitrary redline. It will require about 438 HP to do that, which it has. However, it takes more than the 450-475 HP it has available in order to hit 215. Discounting the issue of stability it should easily knock on the door of 200mph.
So it is clearly not enough for serious racing where speeds routinely top 200 by wide margins these days. But it's not likely to have to impede the flow of traffic anywhere but Le Mans.
A fellow member of the Jag-Lovers web site has a gorgeous blown XJ-S V12 with around 700 HP which should dust me off easily. But you can see him coming with a large hood scoop that, to me, both gives away the secret and breaks up the lines of the car. And, in any case, this is far more than I thought was needed or was practical for the daily commute or most road trips anywhere short of the autobahn. It is also far from the stealth fighter I wanted for myself (though I confess I'd love to drive his to see what it felt like in comparison). And, if I decide to see if I can start a world class collection of traffic tickets, a head rework is readily available from a company named TPIS for the LT1 giving another 150 HP, not to mention NOS worth another 100-150 HP, and I still don't have to mess up the car's elegant design. Actually I'll probably just add either an intercooler or water/alcohol injection and call it workable.
Even with its 450+ HP though, my car is definitely not a drag racing car. The calculated 1/4 mile times for this 3,700 lb car and 450HP with good gripping tires (but not slicks) would be in the mid to upper-12s. That is based on times resulting from its pre-supercharger "phase 1" condition where in un-blown trim it ran an average of 14.48 seconds at an average of 96.6 mph at the Carlsbad Speedway after several runs.
On a timing run in the desert after the supercharger was in, we recorded 0-60 times on three runs of...
1. 3.4 Seconds
2. 3.8 Seconds
3. 3.2 Seconds
The runs were made without power braking and from a solid stop, foot on the brake (because idle speed will get me going about 25-30) then just rolling the throttle to the floor. I had a full tank of gas, spare, etc. all on board plus my friend at about 180 lbs. I was watching the road and my friend with a digital stopwatch had his head close to mine watching my speedo which was re-calibrated during the buildup due to the change in pulses from the V12. We would count down in synch to me hitting the gas. It's not scientific but it does give an idea of the car's potential.
That may be far from impressive to any serious drag fan. It's better than most stock vehicles on the street by quite a bit but what's the point? More tickets and initiating some disaster? Besides, the Vipers and the new Vettes have similar power, manual trannies, better low-end gearing, and quite a bit less weight so would probably do better.
But not very much else in stock trim that lists for under $100,000.00 would stay with it on the open road, certainly not as it approached top speed!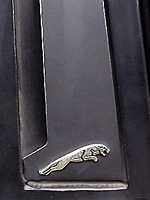 Of course I realize that without the coupe's aerodynamics (coming from the "flying buttresses") or a functioning wing/spoiler to hold it down the car would not be well connected to the road at such a speed and consequently quite dangerous, but it gives an idea of the potential. From a safe, functional point of view it is easily a 180 MPH car.
However, since it was designed and created as an efficient freeway flyer, whatever it's potential on paper, or times at the strip, it does what we designed it to do beautifully. A trip to Colorado for the retirement dinner of a good friend proved just how great it was. It cruised all night in triple digits and never skipped a beat.